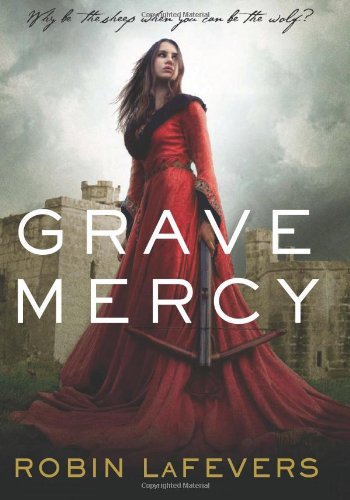 picture courtesy of compassbookratings.com
Good Afternoon fellow book pirates! Just came through with a finished reading on a book that came out this summer.
Taking place in medieval Britain, the story centers on a girl named Ismae who escapes an arranged marriage by the hands of fate. Turns out she is destined to be the handmaiden of Death since the "mistake" of her birth and is sent to a convent in which she is trained to be an assassin.
However, as it may, things aren't always cut and dry when there are politics at hand, romance, and traitors in the midst of a potential war. What will Ismae do?
This is a unique story because its not your everyday medieval novel. I mean, the main character is trained to be an assassin which is a bit antagonistic. She is definitely not girly and kind of awkward when it comes to interacting with hot guys. And what I also like about this book is that the romance (yes there is romance) isn't the main focus of the novel. There is action and almost a textual game of Clues because when reading it, it isn't exactly clear who is the traitor in the group of people surrounding the duchess. I'd say its a great book for the beginning of the series but I think some of the supporting characters could have had a little bit more spotlight to add more mystery or something else. Otherwise, I recommend as a train read.
Til Next Blogpost,
Miss Bobo