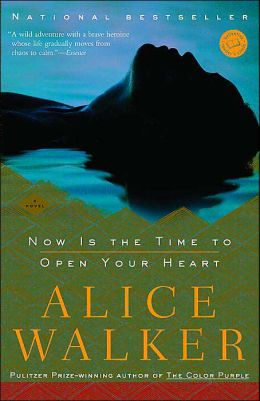 picture of cover courtesy of barnesandnoble.com
Reading Young Adult (YA) fiction novels I find there is an angst, a restlessness of constantly looking for resolve from being content that I can't find in the adult collection.
Recently I found a book that broke that mold for me. Titled
Now is the Time to Open Your Heart
by Alice Walker, this adult novel follows the journey of Kate: a woman in her 50's, who has been consistently on spiritual adventures to satisfy a restlessness after living through failed marriages and death within her family.
When I read the cover, I thought it would be something ultra cheesy and some hot sex. I started reading the first page and I knew right there I didn't need to read any more.
It was better than hot sex, affairs, and all those romantic clichés: it was an actual adventure. And there was no need for random vampires and werewolves to pull me in.
Kate goes to the jungle and builds relationships with others who are in the same journey. Although the book starts mainly with Kate, while she is in the jungle with these people; each person has a story too. Kate's journey becomes everyone's journey including her lover's, who she had left behind.
At times when I read through each character's thoughts and stories, I felt like I was reading Alice Walker's opinions of the world's issues and found it a bit of poor taste. But after reading those same thoughts, I found myself thinking about my life, my surroundings and the choices I have made throughout my life.
It is actually rare to find books like that; that aren't obviously about teaching the reader philosophy. I appreciate Alice Walker's writing here but I don't think its extremely exceptional.
If you like to read adult books that have a message but are devoid of extreme cheesiness and is told in present times; I recommend this book.
Note: this book is not for everyone.
-Miss Bobo